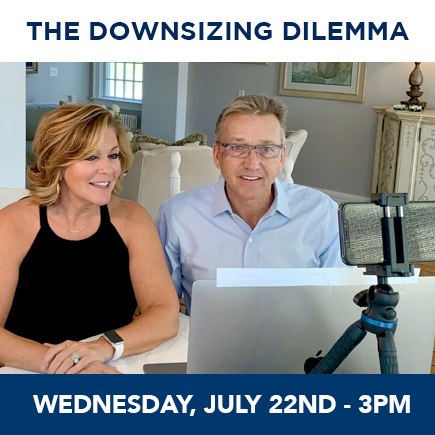 July 22, 2020 at 3PM
Does your home match your goals for Retirement?
We've all been faced with a time in our lives when we realize that our home won't give us what we need, or what we want. This dilemma often rears its head at key transitional moments in life: marriage, the birth of a child, a big promotion at work, a newly emptied nest, and of course, Retirement. If you have thought about changing your home for retirement, then we're glad you're here. We'll provide you with a framework to take stock of past home experiences and set priorities for what you want and need in your next home.
JOIN OUR WEBINAR AND LEARN HOW TO:
Identify Concerns and Set Priorities for What Really Matters
Build Strong Alignment with those Affected by Your Decisions
Gain Tools to Create an Actionable Plan
We've been there, and we struggled through these points and many others, and we made it out the other end! We learned a lot about the dilemma of downsizing, and how there is no one right answer. In fact, the opportunities are boundless. Join our webinar and we'll provide you with our insights and tools to help you move closer to this big step.