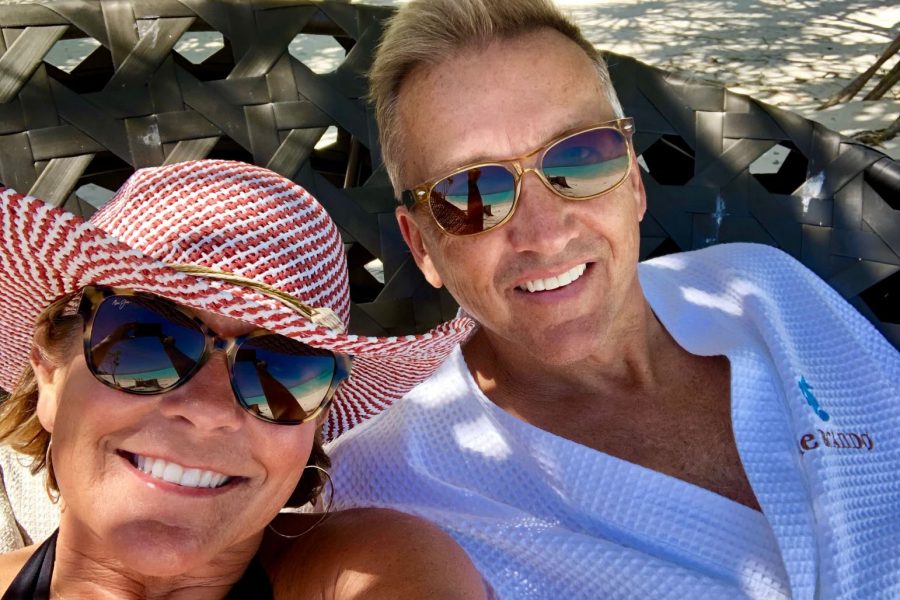 It's safe to say, we are all eager to get away. Our age demographic made us a bit more cautious until we could get our vaccinations, so we hadn't been out to eat in months, still in semi-quarantine mode. But man did we need a change in scenery.
Desperate for a little R&R, we packed our bags and took a quick trip to Florida. Let's just say, getting back into the travel groove was interesting.
We flew out of Boston and the airport was organized, clean and ready for travelers. The airplane felt safe and almost everyone respectfully wore masks. A few needed a reminder by the flight attendants to pull their masks up but overall, the experience of flying felt fine.
So many people!
We really felt the shift when we came down the escalator to the baggage claim area… oh my goodness, there were hundreds of people! We thought because there were fewer flights the baggage claim area would be empty. But to our surprise there were three flights arriving at the same time, and all of the bags arrived at once… it was packed. Although everyone had masks on, it felt very uncomfortable for us who up until then, had very limited exposure to crowds of people. It was a challenge to remain socially distant and the bags were delayed, leaving us in that scene even longer than we hoped.
A new reality hit us square in the face upon our arrival at the car rental station. From all of our corporate travel that we had done over the years, we are Avis preferred members and had grown accustomed to come down the escalators, look for the big sign with our name on it, and be escorted to our car. Guess what? No sign, no concierge service, nothing. We had to get in line with even more people.
This feeling was all too familiar. It reminded us of when we first retired, all the little perks that come with your career that you forget or take for granted until they are no longer there. We entered the Preferred line and the agent advised us that our Preferred status had lapsed since we had not used it in over a year. Shocking because, really? Who has? We were asked to move out of line and re-register on our phones, all while jammed with hundreds of people in the terminal. We swiftly contacted another one of our preferred car rental agencies and quickly got a car.
It was a good reminder that if you have not traveled in some time to check on your account status with various services. Don't assume.
At last, the rest and relaxation portion of the trip could begin! We made a quick stop at the grocery store before arriving at our Airbnb, which afforded us great privacy. We enjoyed a few outdoor dinners, heard a live band for the first time in forever, and began to feel like life was returning to "normal." We are big travelers and were excited to be dipping our toe back in the water.
Everyone has their own comfort level.
We did encounter a few more challenges with crowds here and there, which highlighted how different parts of our country are managing COVID and vaccines in their own way. A key tip is to feel confident to use your own risk management protocols in any way that feels good to you. We always kept our masks on if we were walking near people whether at the beach, walking into a restaurant or shopping. There is no shame in enforcing your boundaries and creating an experience where you can relax and feel safe.
As you begin exploring the idea of travelling again, we highly recommend a good travel agent. Now more than ever, it's helpful to know what's happening on all of the islands, countries and to know the requirements for travel. They are poised to advise you on COVID spikes, quarantine procedures, changes in offerings and more. The internet isn't always reliable in having the latest advisories.
Soon we will be fully vaccinated and are looking forward to planning a few more trips, especially to see our children and grandchildren. It's what we have missed the most. After one trip, we feel more prepared and know what to expect in this new world.
Have fun, be safe, and remember that now more than ever, good planning can make your travels much more seamless and enjoyable.
Top Ten Tips for Returning to Travel
Plan ahead and think through each part of your trip. 
Know your comfort zone and create an experience that you'll be able to enjoy.
Check your account status with various travel services.
Enlist a Travel Agent to help you.
Book meals at off peak hours to avoid crowds.
Consider services like Airbnb or VRBO to book stays at private accommodations.
Avoid popular travel dates when possible for a quieter experience.
Use this time as an excuse to explore more remote destinations. Save the hot spots for a later time!
Book dining reservations in advance when possible and inquire about types of seating. (Outdoor, smaller dining rooms, etc…)
Be flexible.  Travel is going to feel a bit different for a while.  It can still be relaxing! Go into it with a more open mind.