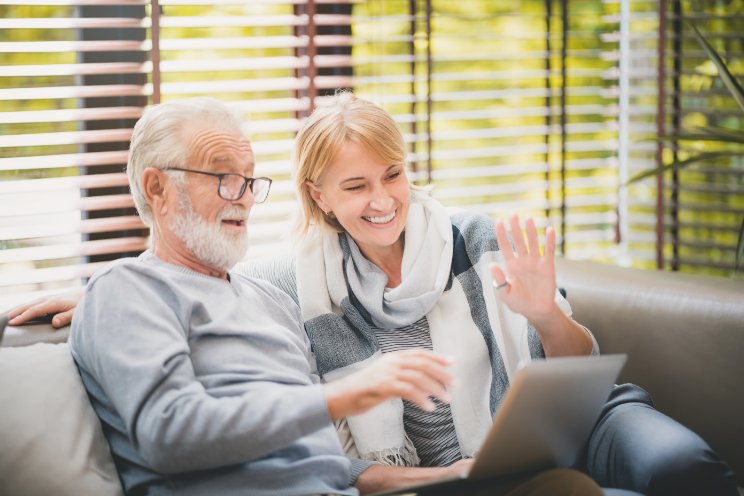 Social distancing has created a new normal for everyone. It goes against all of our natural instincts, and for many has flipped their world upside down. There has never been a more important time to have a clear actionable plan to be proactive with all your relationships.
There are benefits to maintaining a strong social circle beyond even your family and neighbors. With your family, much of that interaction may be sedentary, such as having a meal or watching TV. It's OK as long as you are balancing that with other relationships that might involve going to the gym, taking a long walk, playing golf, or riding a bicycle with a friend. You must keep up your physical activity at this time.
Human beings are social beings
Now that we are in the midst's of unprecedented times that require us to self-isolate in our homes, we must be careful to not fall prey to loneliness, anxiety, panic, depression, or worse. According to TheConversation.com, "People who are lonely have higher levels of the hormone cortisol, an indicator of stress; show weaker immune responses to pathogens; and are at increased risk for premature death. Isolation can lead to depression, suicidal thoughts and other clinical conditions."
In addition to worrying about yourself, for the first time in a long time you may have grown children returning to live with you. You might be asked to help out with childcare so they can work from home. This presents another whole set of challenges or opportunities. Balancing the stress from all of these changes is imperative to your overall mental health.
Normally, when you retire and leave your workplace where you may have been surrounded by many colleagues and associates, you go through a period of withdrawals while those relationships slowly begin to fade. If you have been diligent, you may have found new friends to replace those that remain at your old workplace. But faced with this new phase of social distancing due to COVID-19, staying connected, while difficult, is more important than ever.
If you are home with just your partner or spouse or maybe just missing some of your friends and family here are some ways in which to stay connected.
Embracing Technology
For the first time ever, almost everyone you know has a cell phone with video capabilities. I know, you might find it difficult to understand, and you feel weird doing it. But now is the time to embrace it. Not only will it protect you from feeling alone, but you can use this time to strengthen all your relationships.
A few weeks ago, Jody and I were holding a workshop for a group of retirees. One of the people in the group was about 74. I'll call her Maria. She lived the first 30 years of her life in Italy, then moved to USA. Maria had not returned to Italy until last year and it was such an amazing experience for her.
She shared with us her introduction into the world of technology. In 2000, after some prodding from her children she created an email address. And slowly was able to start communicating with her old friends in Italy. She would wake in anticipation every day to see who wrote back to her. She opened a lifeline to her friends and family back in Milan. And in 2019, she went back for the first time in 43 years for three weeks. It was all she could talk about and she was planning her next trip.
During the workshop, we encouraged her to start making video calls (FaceTime on her iPhone) to her friends in Italy. Clearly, she was rattled by the prospect of doing this. She mentioned that her grandson Michael, promised to help her figure this out but she refused. We convinced her that this was good for her, it was good for her relationships in Milan and it was good as a new connector for her and her grandson. She promised to make this a reality in the next few weeks.
I don't know if Maria started doing facetime calls on her own, but maybe by now she has. There is no better time in our lives to be proactive with relationships and using video, brings your conversations to a whole new level.
In our workshop and online course, we guide participants through an exercise of listing out all of their relationships and breaking them down into categories. For now, I am recommending you list all your relationships and then break them down into categories. Those categories could be family, close friends, and ex-business colleagues. You could also identify friends you have not contacted in multiple years such as a college roommate or even high school friends.
Find them on Facebook or, LinkedIn, send them a message. Reconnect and get their cell phone number. Eventually surprise them with a video call. I promise you it will be fun, and you will feel connected. Try and make a few new calls a week. We all have some newfound time on our side, so let's use it in a positive way. Staying connected, with the absence of face-to-face interactions, are now easier than ever. Take advantage of the technologies available to you and the variety of options you have!
Additional Ways to Interact with Friends
Gyms, yoga studios and health clubs are closed. But many of them are doing free online sessions. Gather your fitness friends and take the class from each of your homes, then use a platform like ZOOM or Google Hangouts and host a coffee chat. It'll feel just like you are chatting together at your favorite coffee spot.

Take a virtual tour of a museum together from your homes. Here is a great list of free tours available, or click to your favorite museum and follow the links.

Start a virtual book club. I am in one now with my alma mater and I actually found some graduates from my same year. It has brought me connections I didn't even know existed, plus we all have similar interests which keeps the conversation going. WWW.bookclubz.com is one that seems like a good choice.

If you have a Peloton, you can join the same online class as a friend. Then meet up on Zoom for a coffee chat like I mentioned previously.

Take an online course together. Cooking classes, learn a language or learn a new skill. More and more companies are offering online alternatives as the social distancing restrictions continue to increase.
YOU can become the glue that holds these relationships together. And who knows, you may get used to this format and start doing it with friends and family who live far away. Try and be positive and think of this as a time to reset. Get rid of some old habits and start some new ones. These new efforts of communication could become part of your long-term habits in the future.
One last idea
Make a list of 14 people who you have not spoken to in more than a year. Write down their cell phone number and over the next 14 days, call them, or better yet FaceTime them. One friend a day. See how they are doing, encourage them to do what you are doing, check in on their family. Make a virtual coffee date in a few weeks. This communication circle could spread further then you could imagine, brightening the days of people you have never even met.
These are unprecedented times for all of us. Become the person who reaches out and see how happy you become, how engaged in this project you are and how your level of fulfillment rises.
Leave any comments below about your mindfulness practice and the benefits you see.
Get our latest tools, teachings and join our community of like-minded post-retirement professionals at retirementtransformed.com, and start your journey toward living a retirement transformed.
Markham Rollins is dedicated to developing meaningful, transformational journeys for career-oriented professionals when they're facing—or anticipating—retirement. He serves as a guide for successful individuals who, up until now, have built their identity around their business and professional successes. Markham helps entrepreneurs and executives rewrite their story of retirement so that it is filled with purpose, passion, and clarity.