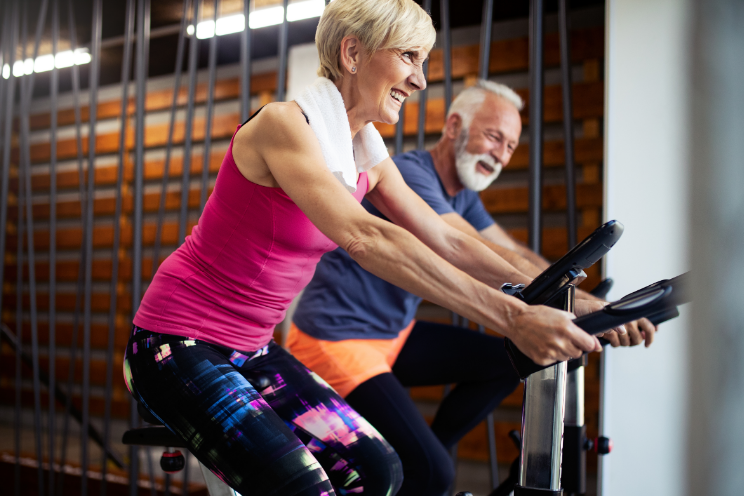 While you may think you have everything figured out when it comes to retirement, your health and wellness are likely not on that list. But they should be!
Without a solid plan for your mental and physical health and wellness, your years ahead will fall short of your expectations. Not only short-lived, but living this time that you are supposed to be enjoying, instead of with potential illness, frailty, and potential depression or worse.
The Risks of Entering Retirement
When I left my career and started building Retirement Transformed, I didn't focus on the negatives that surround retirement, because they are often unspoken. I learned that the highest rate of suicide in America is among men over the age of 50 years old. I found that fact astonishing and scary. Mental illness and alcoholism are core issues in retirement and need to be addressed accordingly. Maintaining a positive attitude and outlook on life is critical to combat retirement stresses and live a happy and healthy lifestyle.
I remember when I was going through the process of selling my company, stress was high and self-control was low. There were many sleepless nights, binge eating comfort food sessions, and drinking too much as a way to combat the stress. All of this had an adverse effect on my health and I knew things had to change.
What does healthy look like to you?
For the past 15 years, I have succeeded in being involved in what a "healthy lifestyle" should look like. Attending a gym and making strides in my nutrition program, attempting to keep my health and wellness at the forefront of my mind. But as I entered the next phase of my life, retirement, I reflected and discovered I was falling short and cheating myself of a healthy future. Sure, I went to the fancy gym and had a trainer two times a week, but there was no real effort on my part. It was more of checking the box, so I could tell others what I was doing. Being seen at the said fancy gym by my clients, friends and business associates, gave me the affirmation that checking that box was the right thing to do because it was what they were all doing too.
Growing up my Mom was a great cook. We always had a fresh, hot meal for dinner. The taste was amazing, due in large part to all the butter she used when frying or baking. When we went out for a meal, we had a routine for that. Every Sunday was either McDonalds, Chinese food or KFC. Comfort food at its best. As a child, this all seemed normal, but once I was able to make my own food choices, I realized the detriment I was doing to my own health. I will admit, I still make some not-so-great food choices at times, but since leaving my career and focusing on nutrition, it is rare that I eat any of these old standards. I have become much better at letting my body tell me when I am off track. I also have a nutritionist as part of my wellness team to help keep me on track and continue to make positive strides.
Putting Your Health and Wellness First
Developing new habits, making them part of a daily routine and holding myself accountable has helped tremendously. I feel so much better now. I am in the best shape I have ever been in, both physically and mentally. When I fall off the wagon (yes, sometimes I still do), so to speak, by eating poorly or drinking excessively, I feel like crap. It's funny because, for the longest time, that was my normal. I didn't realize how much damage I was doing to my well-being. I now have a new normal, which I love. I jump out of bed every morning and start my day with 20-30 minutes of physical activity, 10 minutes of meditation, and 20 minutes of journaling. These new habits have given me clarity and space in my head for creative and positive thinking. I will admit that starting meditation was the hardest change I have made so far, but I am so grateful I stuck with it. Research shows that.
While health care and proper nutrition have helped to almost double our average life expectancy in the last 100 years, we need a regiment and routine to support a vibrant lifestyle. According to a study from the Harvard School of Public Health, of over 5,000 individuals who participated, those who had retired were 40% more likely to have had a heart attack or stroke than those who were still working. The increase was more pronounced during the first year of retirement.
As you prepare to enter retirement, reflect on your past decade and see where you stack up in these areas. Create a vision for yourself and support that vision with good habits and routines. This will allow you to have a clear plan with goals, objectives, and outcomes. And remember, you're retiring, so having no time is no longer an excuse. You have time to plan, you have time to go to the gym and nutritionist and you have time to be healthier for your sake and set an example for your family and friends.
Get our latest tools, teachings and join our community of like-minded post-retirement professionals at retirementtransformed.com, and start your journey toward living a retirement transformed.
Markham Rollins is dedicated to developing meaningful, transformational journeys for career-oriented professionals when they're facing—or anticipating—retirement. He serves as a guide for successful individuals who, up until now, have built their identity around their business and professional successes. Markham helps entrepreneurs and executives rewrite their story of retirement so that it is filled with purpose, passion, and clarity.