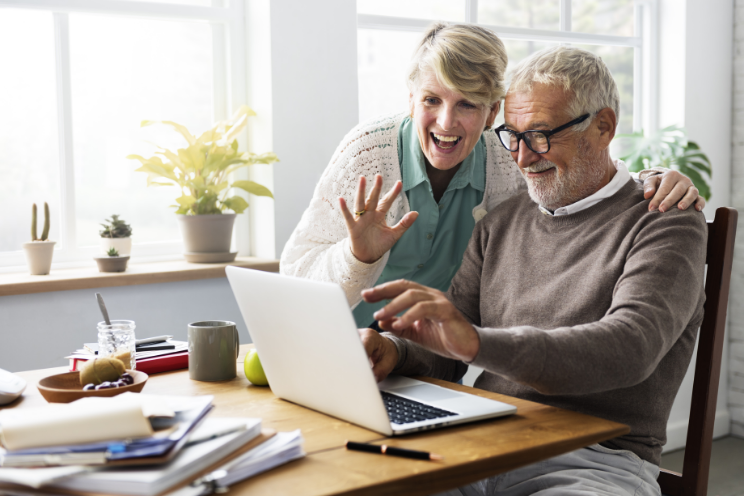 So, you were nestled into the mindset that you would start to think about retiring in 2020, and then the COVID-19 pandemic began. Did your dreams of retiring come to a screeching halt?  
Here's the good news, they don't need to! By now, you may have been working from home for the past eight weeks and thinking to yourself, wow, my life changed! I can't even imagine what retirement will look like if this being at home 24/7 is any indication. We are here to tell you that with a thoughtful plan and vision for retirement, you can become fulfilled in all the ways you imagined. Don't let the COVID-19 stop you from planning for your retirement; let it help transform your vision and make a plan to achieve your retirement dreams.  
Once Jody and I decided to begin our retirement journey, we started a five-year research project. It took some time because, back then, there wasn't much insight on how to live in this new stage of life.
There was plenty of information on the internet regarding the financial aspect, which is usually the biggest concern. But what about everything else?
What about how you would use that money to enjoy this new stage of life?
After all, you would no longer fill your days with work, so what would be your motivating factor?
What would your days consist of?
What would your relationships turn into?
These are all questions we found little to no answers for. While it is essential, we did not see a future life that could easily be 30-40 more years, just focusing on our money and what to do with it.
Retirement Isn't Just About Money
Yes, we both had successful careers, and with the right amount of oversight, we felt our finances could support the life we dreamed of. So, we had that box checked. But that's just one box on the list.
Let us share a bit about a personal experience that has driven our passion to help people think beyond the financial plan when they are retiring. You see, my dad had that box checked too. My brother and I bought him out of the family business at the age of 65, and he began his retirement dream of splitting his time between New York and Florida. He enjoyed some travel with my mom and plenty of golf with his buddies. But after a few short months, he began to feel what many entrepreneurs and senior-level executives think once they walk out the door.
Loss of community – During your career, you may have built a community of people that span decades—clients, teammates, lawyers, bankers, social clubs, and more. And when you leave your business, you are instantly replaced, and these relationships and sense of community tend to disappear.
Loss of Identity – Many successful people identify themselves by their title, location of their office, stature in the business community, and more. Again, upon leaving, that is all in the past, and it becomes a work project. Build a new identity.
Figuring out what to do with the 40+ free hours that come your way – It was always a challenge and struggle to fit everything in that was not work-related. Relationships, golf, learning, vacation, and time with the important people in your life. Your career ended up taking up most of your day, about 8-10 hours. If you slept for 7 hours, that left 5-6 hours for everything else, it becomes difficult to take what used to fill 5-6 hours and spread it out to 15+, every day.
My dad struggled in retirement. Sure, he had fun times, lots of travel, and visits with the family and grandkids, but he was used to more. He was the guy that walked in a room during his career and was instantly surrounded by a group of people. He was a fantastic leader, networker, and mentor to so many, including me.
But he was also the guy that had business cards made up with the word "Retired" on them. I used to tell him the retirement is not a title but a phase. He did the best he could, but he had no plan. No clear vision for the rest of his life. No real way to get a daily dose of fulfillment beyond my mom and our family. He became disenchanted with golf three days a week; he stopped exercising, ate poorly, and in my opinion, died way before his time at the young age of 80.
Jody and I wanted a retirement well beyond the 15 years my father had. So, we did our research, created tools and strategies that we tested, and used to build what we consider to be the ultimate way to spend the rest of our lives.
According to the New York Times, "The trend now is toward a much more active retirement, she says, where work and time for personal pursuits or leisure are not mutually exclusive, and where the transition itself — to "retirement" — is highly personalized."  
If we wanted to personalize our retirement to fit our needs, we needed to plan, be adaptable, and look far into the future.
How to Avoid Being Bored In Retirement
Now that we have been in quarantine due to the COVID-19 pandemic, we are spending more time at home than we had initially planned for. We are using this time to modify our retirement plan and vision for our lives, just as we do in our online course and one on one training.   
A big part of the plan is adding in new specific habits that support your new vision. For instance, my 30-year physical wellness vision is to be physically independent at the age of 93. So, for the next 30 years, there are things I need to do, every day, to support that vision.
Exercise regularly
Eat healthy
Work with my medical team (nutritionist, naturopath doctor and my GP) to make sure I'm doing all I can do to keep my immune system in check and limit prescribed drugs
Regularly reassess where I am and how I can do more.
Think about these questions to begin to think of your retirement vision, even during this time of uncertainty. Grab a journal and write about the following question prompts
How far out do I want to think about my life? (5, 10, 20, 30 years or more)
 Why do I want to think out that many years?
Who are the key people in my life that can help me? What role can they play?
What vision do I have for the following areas of my life:

Physical wellness
Mental wellness
Relationships
Spouse/partner relationships
Wisdom sharing

What new habits do I need to support these visions?
What bad habits do I need to stop to achieve these visions?
What is holding me back?
What is the first thing I need to do to work on this project?
This is not an easy undertaking. As I said, it took Jody and I five years, and even today, we are continually upgrading our strategies and tools to adapt to our lives. Right now, with quarantine, we have had to adjust our relationship vision and habits to enable us to keep relationships alive and thriving.
I encourage all of you to grab a journal and start thinking and writing. If you need and want help, see our offerings for our online free zoom calls and webinars, or take a look at our online course "Your Retirement game Plan."
Get our latest tools, teachings and join our community of like-minded post-retirement professionals at retirementtransformed.com, and start your journey toward living a retirement transformed.
Mark & Jody Rollins are dedicated to developing meaningful, transformational journeys for career-oriented professionals when they're facing—or anticipating—retirement. They serve as a guide for successful individuals who, up until now, have built their identity around their business and professional successes. Retirement Transformed helps entrepreneurs and executives rewrite their stories of retirement so that it is filled with purpose, passion, and clarity.