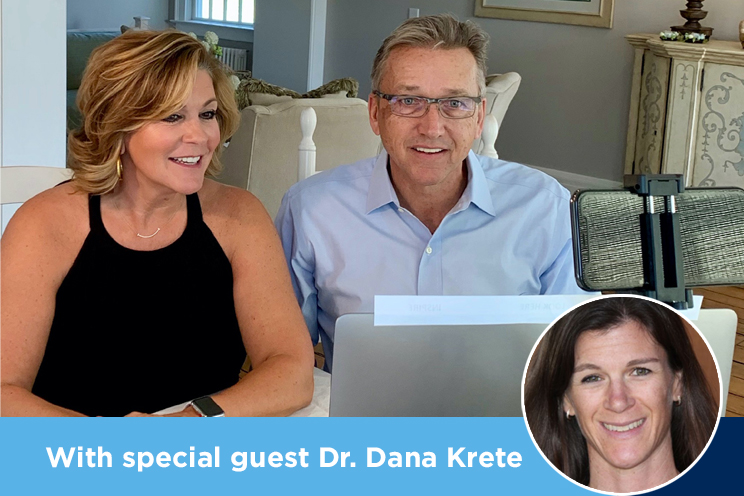 We are excited about bringing our clients access to a variety of practices and professionals who can help you to live your best retirement life.  We recently met up with Dr. Dana Krete, ND, LaC and founder of Fernwood Holistic Health  to talk all things wellness.  From gaining a better understanding of naturopathic medicine to uncovering the links that stress can have on your immune system.  In this talk, we went beyond diet and nutrition to talk about how a more holistic approach to wellness can benefit you now and throughout your years of retirement.
Here is a brief re-cap of what we learned from Dr. Dana. Access to the full video is available to members who registered for the webinar.
We gained a better understanding of naturopathic medicine
Naturopathic doctors learn different modalities and treatments. They look to find the cause of an illness vs. simply treating symptoms and seek a more holistic approach to healing the mind and body. Find someone who connects with you and come prepared for a very thorough work up. Many practitioners take insurance.
Chronic vs. Acute Illnesses
We talked about how COVID is an acute disease where as Diabetes is a chronic illness. We are all very worried about the acute challenges of COVID, but there just is not enough discussion about how chronic illness makes acute diseases like COVID so much worse. 4 out of 10 people in US have chronic health issues that needs to be addressed as it effects so many aspects of our lives including our health, jobs, relationships, insurance and more.
There are some very basic things that everyone can do now to boost your immune system! For starters, Dr. Dana suggests these Nutritional supplements – Vitamin D, Vitamin C, Elderberry, Probiotics & Zinc Pocolinate. Dr. Dana gave specific guidance on why these supplements are vital for your immune system and the best brands to source for these key supplements.
Managing Stress
Half the population of the US has suffered more stress from the pandemic. What does that do to your body? It will most definitely have an impact on your immune system; stress will hit everyone in their weakest link.
One of our favorite parts of our discussion was on Happiness vs. Meaning and how it pertains to stress.  There is a significant difference in the two; happiness is just what you think but meaning creates a lower stress level and is more important. In retirement you may be happy, but if you no longer have meaning in your life, you may continue to be stressed even after your "happy" retirement.  Finding ways to keep your life meaningful will ultimately bring you happiness and reduce your stress.     
You just cannot make up for a poor diet or unhealthy lifestyle with supplements or herbs. It is easy to get off track, so having a strong support system is key.
What can we do right away to create a wellness plan?
Dr. Dana says there are top two priorities that you can focus on to live a longer and healthier life. The first is stress management, yes even in retirement. It is very important to exercise, maintain social connections, and meditate for the ultimate benefits of stress reduction. The second is diet. The simple answer is to get on track, eat clean and be sure to get your 7-9 servings of vegetables each day. With each of these two priorities, consistency is key.
We are committed to providing our clients and followers with informative content on how to live a Retirement Transformed. If you are interested in learning more about our webinars, visit our website at https://retirementtransformed.com , or register for our next webinar on Navigating Your Marriage in Retirement, here: https://markham-rollins.mykajabi.com/09-14-2020-marriage-webinar-registration-public